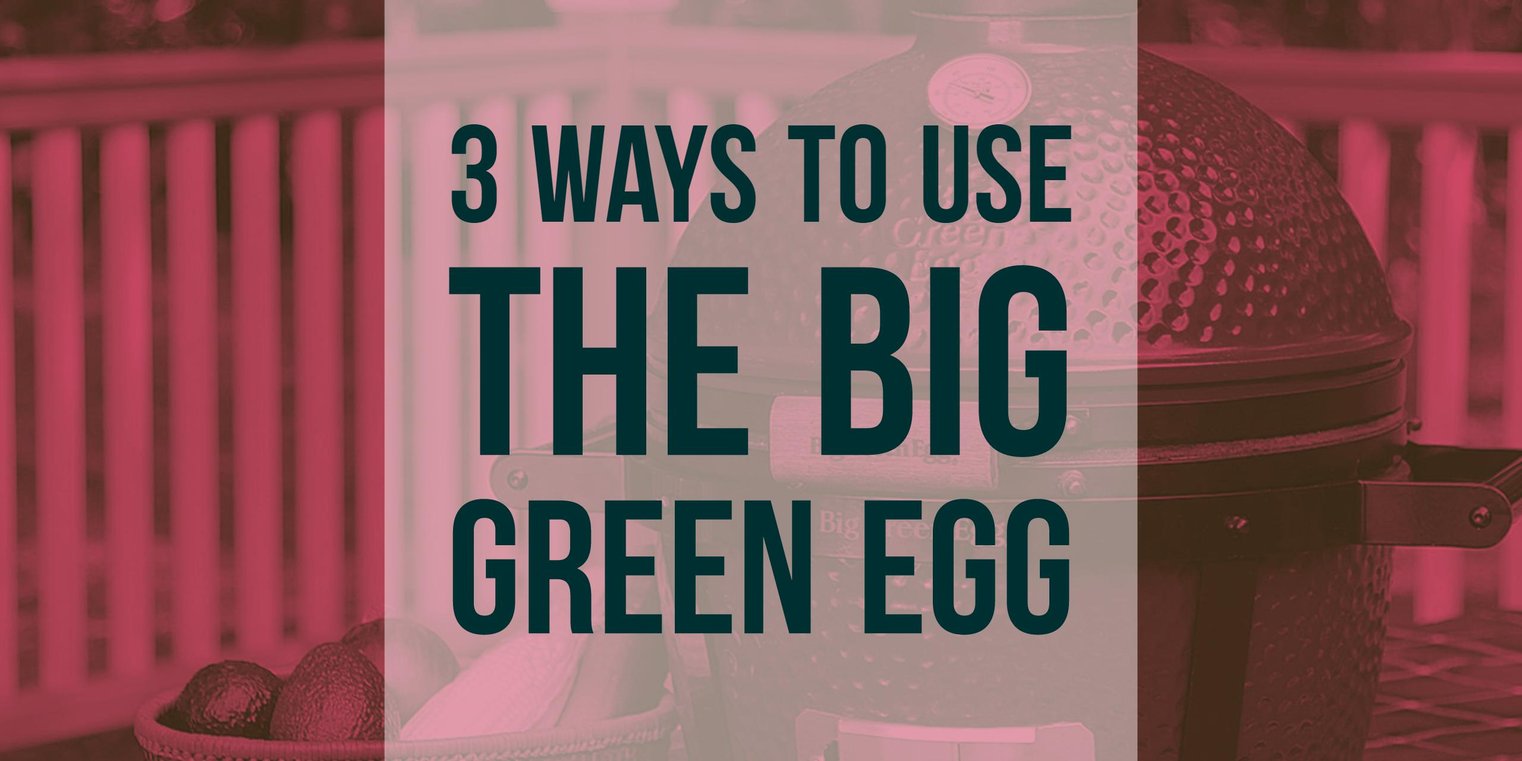 Every spring, when the temperatures rise above freezing, my dad takes to the patio. There's nothing he enjoys more than sitting back there, reading a book and grilling up dinner as the sun slowly sinks below the horizon.
For as long as I can remember, my family's patio has been an ever-rotating gallery of outdoor cooking equipment. A Weber charcoal grill. A perpetually-upgraded propane grill. A combination grill-smoker-supercomputer. (Okay, I may have exaggerated that last one.) My mother's only requirement for the Gallery de Grille was that it remain navigable—for every piece of equipment purchased, another had to be sold or given away. For years, that meant each spring we sold off another now-outdated or underused grill in favor of the latest and greatest cooking fad. That is, until we got a Big Green Egg®.
Modeled after a Japanese kamado grill, the Big Green Egg® is a ceramic outdoor oven that can reach and sustain temperatures up to 700, making it perfect for grilling, smoking, and more! So follow one of these recipes, sit back, and let the uncrackable Big Green Egg® do the rest for you!
Barbeque-Glazed Salmon
Adapted from a recipe by Graham Rahal
Ingredients:
Cedar grilling plank
Fresh salmon fillet
BBQ Sauce
Instructions
-Coat the fresh salmon fillets in your favorite BBQ sauce and let marinate for two hours.
-While the fillets are marinating, submerge your cedar plank in a shallow pan of water and let soak for two hours.
-Set your Big Green Egg for direct cooking at 350°F/177°C.
-Place the cedar plank directly on the grill, close the Egg and heat for about 3 minutes.
-Carefully flip the cedar plank and place the marinated salmon fillets on the heated side.
-Close the Egg and let it cook for about 20-25 minutes (depending on the size of the fillets).
-Remove the fillets and plank from the grill and enjoy!
Since the Big Green Egg® uses natural lump charcoal and wood chips, you never have to worry about chemicals altering the taste of your meal.
Feeling adventurous? How about smoking an entire chicken? When summer comes around, grab a can of your favorite lager and get to it!
Smoked Beer-Can Chicken
Adapted from Rusty Hamlin's "Landshark-Lager-Smoked Spanish Chicken"
Ingredients:
4-5 lb whole raw chicken
4 oz fresh chorizo sausage
1 can of a light lager of your choice
1 dried ancho chili
1 small lime, cut into 8 wedges
1 tsp whole black peppercorns
1 tsp smoked sweet paprika
1/2 tsp cumin
1/2 tsp chili powder
1 tsp cayenne pepper
1 1/2 tsp granulated garlic
1 1/2 tsp onion powder
2 tbs sea salt
1 tbs fresh ground black pepper
2 tablespoons of olive oil
Instructions:
-Empty (or drink!) half of the can of beer, then remove the pop-top and fill the can with lime slices, onion and dried ancho peppers--seeds and all. Add black peppercorns and shake the can to mix.
-Pat and dry chicken.
-Stuff most of the chorizo underneath the skin of the chicken. Take the remaining chorizo and stuff it into the neck area. This will help the chicken self-baste as it roasts
-Mix together cayenne pepper, cumin, garlic, powdered onion, paprika, chili powder, salt and pepper. -Press and rub the seasoning mixture onto the skin of the chicken. Don't be timid!
-Place the beer can inside the chicken carcass and stand it up in foil pan to contain the drippings.
-Place the foil pan on the grill (you can smoke with apple or cherry wood for extra flavor) and cook for 2-1/2 to 2-3/4 hours at temperature of 315-325°F.
**Use a meat thermometer to check that the chicken is thoroughly cooked.
-Remove beer can, let chicken rest for about 15 minutes and cut in half.
Serve with fresh vegetables or green salad, and enjoy!
And why not a recipe that the whole family can enjoy making together? With the Big Green Egg ConvEGGtor® attachment, you can convert this grill-of-all-trades into a convection oven. Perfect for making pizzas!
Egg-cellent Pizzas for Every Palate
Adapted from Laura's Lean Beef
Makes 2 large pizzas
Ingredients:
10 oz pizza dough (store bought or your favorite recipe)
2 oz tomato paste
A medley of vegetables, meats, cheeses—even fruit if you dare!
Instructions:
-Set your Big Green Egg for indirect cooking (with the convEGGtor) at 450°F/232°C.
-Make sure the grill is clean and gently lay each crust onto the grid.
-Cook about 1 to 2 minutes per side, depending on the temperature of Big Green Egg.
-Use tongs to flip and cook each side of the crust.
-If bubbles appear, just prick the dough bubble and keep cooking for an even crust
Spread 1 tablespoon of paste on each crust.
-Divide and top each pizza with your choice of toppings.
-Carefully return pizza to grill, lower heat and close grill lid. Cook an additional 3 to 4 minutes until cheese is melted.
**Keep close watch on pizzas, removing if the crust is getting toasty.
Remove and enjoy! Your kids and friends will love the versatility of this recipe
These are just a few examples of all of the things you can do a Big Green Egg and a spark of creativity. For more recipes and outdoor living ideas, click here or visit us at Casual Creations in Baton Rouge today.
With all of the possibilities the Big Green Egg® offers, it's quickly become my father's favorite grilling device. Now, if the Egg could somehow broadcast the latest episodes of Game of Thrones, my father may not step indoors again until the first frost.