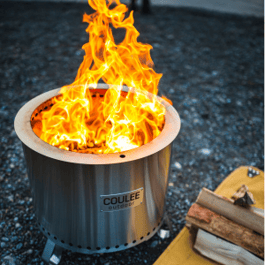 Enjoying a chilly evening around a fire is one of the best parts of fall and winter. However, the lingering aroma of smoke in your clothes and hair, along with shifting winds blowing smoke, ash, and sparks in your direction can be some drawbacks to an otherwise pleasant experience. The expert craftsmen at Coulee Outdoor have solved those problems with their smokeless fire pit, which is now available in Baton Rouge at Casual Creations.
How Can a Firepit be Smokeless?
Smokeless firepit technology can eliminate the unpleasant parts of an outdoor gathering around a fire. Coulee Outdoor firepits use secondary vent holes that create a secondary burn that allows the smoke to mix with oxygen, which burns it away. The 304 stainless steel gauge and the dual walls allow cold air to be pulled up through the bottom and access the secondary vents. The dome airflow system, uniquely designed, allows for optimal airflow within the burn chamber.
What Benefits Do Coulee Outdoor Smokeless Firepits Offer?
Coulee Outdoor smokeless firepits are wood-burning firepits that eliminate unwanted smoke while still providing the comfort of a campfire. These fire pits can be fueled by a variety of sources like pellets and firewood. The design and construction of these firepits eliminate the traditional smell of smoke that can infiltrate your hair and clothes. With minimal ash and clean up, and high-output of heat makes this firepit very efficient.
Now your campsite, tailgate, or backyard can be warm, lit, and finally smokeless. The expert staff at Casual Creations in Baton Rouge is here to help with all of your outdoor furnishing and accessory needs.