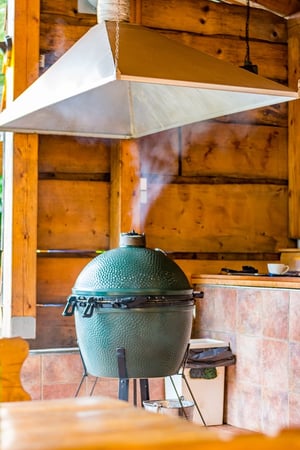 When the time comes to pull the trigger on a new purchase you're going to have several choices. Size, shape, style, and capabilities come in a variety of options; but at the end of the day, you need to find what works the best for you. Whether you're torn between a Toyota or Honda, Ford or Chevy, Apple or Android, Samsung or Sony, you'll always have several choices to differentiate from. The same is true when it comes to grills. Hosting those patio cookouts and tailgate feasts all comes down to the tools, or tool, that you have, your grill. When it comes down to it, the Big Green Egg and Kamado Joe are two of the most popular ceramic kamado grills on the market. Let's take a closer look at what sets these two brands apart.
Kamado Joe
The Kamado Joe is available in a variety of sizes and models. Ranging from 13 ½ inches to the Kamado Joe Pro at 24 inches. It lacks in the size versatility that the Big Green Egg offers. What the Joe lacks in size options, it makes up for in cooking versatility. With a divide and conquer flexible rack system, its modular half-moon components allow staggered grilling heights. Kamado Joe also offers a variety of innovative accessories. Its air lift hinge removes 96% of the hood's weight, which provides enhanced safety and comfort. However, one important detail about the Kamado Joe is that is constructed with a different type of ceramic than the Big Green Egg. Kamado Joe is built from a terra cotta based ceramic, which is an inferior material.
Big Green Egg
The Big Green Egg is the tried and true standard for kamado style grilling. Not only is it a less expensive option, it provides superior performance and a long list of accessories that can enhance your grilling experience. With a spring-assisted dome hinge and felt gaskets, you can enjoy the comfort and convenience of easy, high-end grilling. With a ceramic fire ring and pot, you can experience the pinnacle of outdoor cooking. The Big Green Egg offers sizes from 10 inches, the Big Green Egg Mini, all the way to the Big Green Egg 2XL at 29 inches. This means you can have a home model that is perfect for entertaining as well as more portable option for camping or tailgating. Constructed from true ceramic, offering a superior cooking experience as well as longevity.
If you are in the market for a new grill, or looking to transition from propane to charcoal, the experts at Casual Creations in Baton Rouge are here to help. Delivery, assembly, and warranty services are all available.