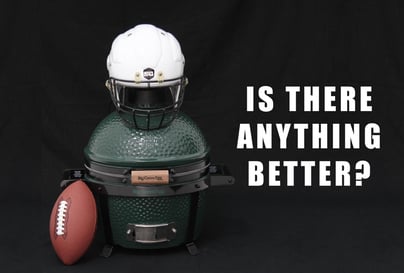 Here in South Louisiana, especially Baton Rouge, we take tailgating to a level that leaves the rest of the country envious. It is an all-day affair, that leads up to a glorious Saturday Night in Death Valley. But, with such a great tailgating reputation, comes an even greater responsibility. That responsibility is having your tailgate live up to the hype. What you serve is every bit as important as any other facet of the gameday experience. This means you need a grill that provides you with the versatility to get creative with your menu. Fortunately, we have that grill. Even better, it is portable. The Big Green Egg allows you to grill, smoke, roast, and even bake. In other words, the Big Green Egg means tailgating excellence in Baton Rouge.
Big Green Egg Sizes and Options
There are some parts of the country where tailgaters simply throw some hot dogs or hamburgers on the grill and call it a day. That simply doesn't cut it here. In Baton Rouge, we dig deeper. We craft menus based on the opponent's mascot. We strive for culinary excellence and wow our guests with food that you would never expect to enjoy in what amounts to picnic surroundings. On top of that, tailgating starts early and ends late; which means you may be called upon to present more than one meal.
Cooking breakfast on the Big Green Egg
Starting in the morning, breakfast is easily served because of the Big Green Egg's ability to bake. Specifically, bringing a baking dish and using indirect heat with the convEGGtor, you can have a breakfast casserole ready to serve as your guests arrive on campus.
Get creative with your menu on The Big Green Egg
As the day wears on, simply refresh the lump charcoal in the kamado style Big Green Egg to get started on whatever you plan to cook next. If you want to stick with indirect heat, you can smoke a brisket or bake a pizza. If you prefer, you can go directly to the grill to prepare anything from chicken wings to what you caught on your most recent trip to Grand Isle.
Multiple sizes of The Big Green Egg
While the Big Green Egg has the word "big" in the title, it is available in different sizes. While most people are used to seeing the Large or X-Large Egg at home, the Mini-Max egg is the perfect tailgating option. It offers 133 square inches of cooking surface and allows the use of all the EGGcessories that make the Big Green Egg so versatile. What's more, its compact overall size allows for easy packing and transport to and from your tailgate.
If you would like to learn more about the Big Green Egg's tailgating capabilities, contact our team at Casual Creations and we will be happy to assist you.