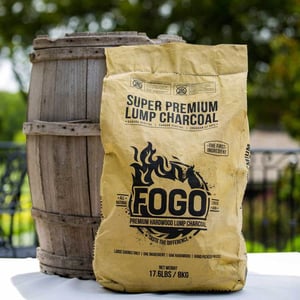 You get out what you put in. This statement can mean a number of different things. If you fill your gas tank with a highly refined, high-octane fuel, you can expect better engine performance. If you eat a nutritious meal before a long run, you can expect good results. If you work hard, you can expect success. Well the same is true for your charcoal grill. Using the best charcoal can provide an enhanced cooking experience.
When it comes to grilling over charcoal, Fogo All Natural Premium Hardwood Charcoal has a number of benefits. Fogo means fire, and this hardwood charcoal burns extremely hot and pure with no additives, meaning it produces very little ash. Because this hardwood charcoal burns so hot it is ready to cook within 15 minutes. Due to its high temperature the meat is seared and the flavors are locked in.
This charcoal is a completely natural product that is made from dense hardwood trimmings from selected trees, Central American Oak Hardwoods, with no other ingredients. Master artisans slowly burn the wood based on years of experience. As the color of the smoke changes, the process comes to an end, and the charcoal is ready. Quality control is another key differentiator for Fogo. The raw charcoal is passed through screens to separate small pieces and dust; ensuring only the best pieces make it into every bag. Fogo is an all-natural, high-quality product that imparts your food with the very best flavor and taste; it is also used by a number of exclusive restaurants around the country.
Whether you are grilling over charcoal, or smoking in a Big Green Egg, Fogo All Natural Premium Hardwood Charcoal can take your next meal to the next level. Everything from being ready to cook to cleaning up is improved. The experts at Casual Creations in Baton Rouge have all of the answers you need from the grill to the charcoal.