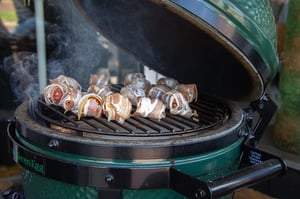 Accessories are designed and intended to make an original product better. From surround sound for you TV to a pop socket for your iPhone, the different options that accessories afford can be wide ranging. The same is true when it comes to your grill, specifically a Big Green Egg. The Big Green Egg offers exceptional performance as well as a wide array of accessories and products that can enhance your grilling experience. Let's take a closer look at the different items that can bring your grilling to the next level, in both convenience and performance.
The Eggspander
The Eggspander is a flexible cooking system that allows you to cook low or high. This accessory also facilitates direct and indirect heat simultaneously. Add instant flexibility for meat, fish, vegetables, and more.
Big Green Egg Electric Fire Starter
Lighter fluid and long wicked lighter are a thing of the past. When the time comes to ignite the lump charcoal in your BGE, the electric fire starter makes beginning your meal a breeze. Simply plug in the starter, place it beneath the charcoal, and within seconds your grill is heating up and ready to go.
Remote Grill Thermometer
While grills are made to get hot, and they do, for health and safety reasons, as well as flavor, it's important to monitor the temperature of the items you are cooking. A remote thermometer allows to comfortably and conveniently monitor the temps of what your grill is cooking.
Big Green Egg Pizza Stone
Grills are no longer relegated to hot dogs, hamburgers, and steaks. The Big Green Egg doubles as a perfect pizza oven. Wood-fired pizza is a great way to customize and create a delicious meal. The Big Green Egg pizza stone can make it even better. Prepare your perfect crust, sauce, cheese, and toppings over this high-performance stone.
Rotisserie Attachment
The Big Green Egg is designed to provide a thorough, even preparation. This characteristic makes the BGE perfect for rotisserie chicken. The rotisserie attachment makes it easier than ever to create a smooth, consistent atmosphere for cooking a well-seasoned chicken.
If you are considering a Big Green Egg, or have had one for years, the experts at Casual Creations in Baton Rouge are here to help.