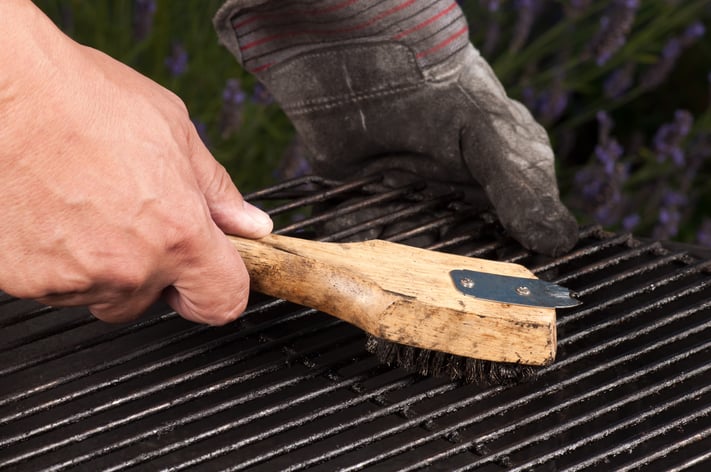 Grilling is one of the most enjoyable ways to entertain, and is a way of life in south Louisiana. Cookouts are a staple, but doing them right is an investment. When you invest in a good charcoal grill, like a Big Green Egg or a grill from Fire Magic, you want to make sure you get the most out of it. Not just in terms of having great cook-outs, but in extending the life of your grill for as long as possible. While it may seem like a hassle to do anything more than just lighting a fire and throwing on some meat, taking a few simple steps can go a long way toward maintaining your Baton Rouge charcoal grill.
Cleaning The Grate On Your Charcoal Grill
This should be the first thing you do when you get your fire going. The heat from the fire will assist you in cleaning. Once the fire is hot, use a grill brush to knock off anything that was left from the last time you grilled. Don't be afraid to put a little elbow grease into brushing the grate. You want it as clean as possible before it comes in contact with your food.
Oiling The Grate Of Your Charcoal Grill
Oiling the grate prevents food from sticking to the grill. This will make it easier to clean, and is better for the food you cook. The type of oil you use is entirely up to you. Most people use vegetable or olive oil, but bacon grease works just as well, and adds a touch of flavor. Apply the oil with a folded paper towel, held with tongs, and be careful not to use too much. If any oil drips into the fire, it can flame up.
Removing The Ashes From Your Charcoal Grill
Many people ask us when they should remove the ashes from their grill. Most people just leave them in when their grill is not being used, and empty them when it is time to grill again. This isn't good for your grill, as ashes can collect moisture and cause undue wear inside your grill. The proper time to remove the ashes is after you have grilled and before you put the grill away.
Washing Your Charcoal Grill
You don't need to wash your grill every time you use it, but when you notice that it's dirty, wash the entire grill with warm, soapy water. Rinse and dry it thoroughly. For the cooking grid, pour ammonia in a bag and put your grill grates inside the bag leaving them in overnight. Rinsing your grill and cleaning your grates will make it look brand new.
Adding these steps to your grilling routine adds a minimal amount of time, and a maximum amount of results. You will find that you get more out of every experience, while simultaneously extending the lifespan of your grill. If you have any questions about grill maintenance, products or supplies you may need, or want to know how to adapt any of these steps to your individual grill, please contact our experts at Casual Creations and we will be happy to help.